Welcome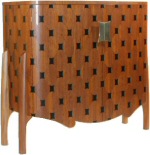 East Indian Rosewood Sideboard
James Esworthy
Message from the Director
The genesis of this exhibition goes back to 1982. We were searching for a way to make our bequest of furniture from the museum's founders, John and Katharine Maltwood, an exhibition and collecting theme of contemporary relevance. The result was highly successful exhibition, "The Cabinet Maker/Designer." One mark of that success among the exhibitors was the formation of the Vancouver Island Woodworkers Guild.
In the years since the Guild has done a sterling job in raising the profile of the profession, and particularly promoting good practice through regular juried exhibits. They have become a fixture in the Victoria cultural calendar and always well attended by practitioners and public alike. And the competitor range has outgrown its local bounds to now include all of British Columbia.
Over the years UVic has hosted a number of these exhibitions and we are pleased to welcome the Guild back again for Explorations in Wood.
Martin Segger, Director
Maltwood Art Museum and Gallery
About the Exhibit
Explorations in Wood is an open juried exhibition of fine woodworking held biennially in the Victoria area. The show displays the artistic and technical skills of a broad cross-section of woodworkers. Artists present their work, which is judged on the basis of originality, aesthetics, design quality, joinery, and finish. Many of the pieces will represent hundreds or even thousands of hours of work. The exhibit includes both traditional and contemporary furniture, sculpture, marquetry, turning, and musical instruments.
The Vancouver Island Woodworkers Guild
The Vancouver Island Woodworkers Guild is a non-profit organization of professional and amateur woodworkers dedicated to the promotion of fine woodworking and craftsmanship. The Guild has been holding monthly meetings for over twenty years, and it's membership has grown from 12 members in 1983 to over 160 people. One of the most important functions of the Guild is to organize exhibitions which allow the public an opportunity to view a high quality display of fine woodworking, submitted by members and non-members from all parts of British Columbia.