The Vancouver Years: Spalding's Work Reaches the Masses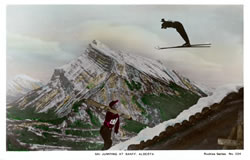 A playful snapshot that highlights the winter sports opportunities in the Rockies.
Spalding produced a substantial collection of postcards, and the examples shown here are only a small sample of his efforts. Like other photographers of the period, he earned additional income by selling his photographs to postcard companies, who would in turn reprint the photos and sell them either individually, or as part of a series.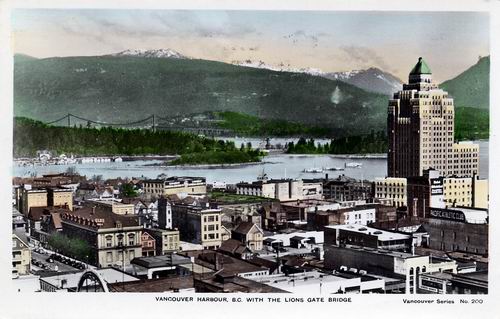 Spalding captures the glory of Vancouver's skyline with Stanley Park and the north shore mountains in the background.
The earliest postcards in North America appeared in 1873, and were used mainly by businesses for advertising. By the first decade of the twentieth century, postcard collecting had become extremely popular, and postcards were often collected or posted as souvenirs.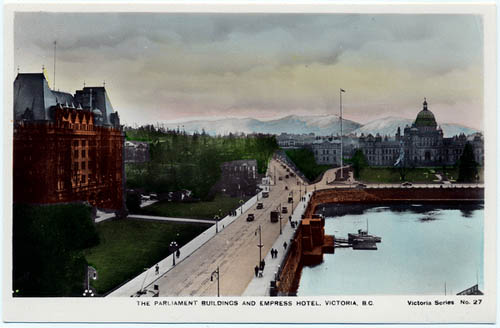 Spalding's view of one of the most photographed scenes in Victoria. Simple and beautiful with the Olympic Mountain Range in the background.
Spalding's postcards reached friends and family in British Columbia, across Canada, and internationally. Searching the internet today it is possible to find international listings by collectors for postcards produced by the Gowen Sutton Co. Ltd. This was the Vancouver company that produced and marketed Spalding's postcard images while he resided in Fernie. After moving to Vancouver in 1924, Spalding joined the Gowen Sutton Company as Sales Manager until 1926, when he formed his own postcard company, The Camera Products Co., located on Dunbar Street in Vancouver.
Over the years, Spalding produced numerous series of postcards, many hand-tinted by his wife Ida Merle, of urban scenes of major cities and landscapes in Western Canada. Much of Spalding's photographic legacy remains in museums and archives in the form of postcards and, as originally intended, they offer a view of some of the most magnificent settings in Canada.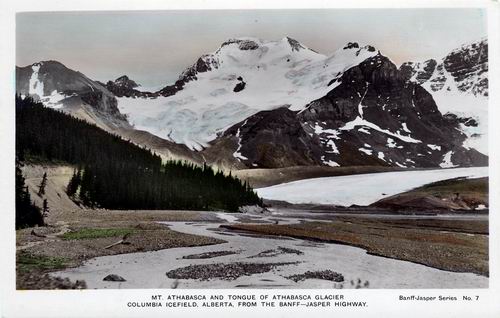 A spectacular view of the Athabasca Glacier.
Jump to top of page