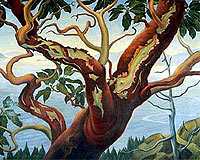 M964.1.100
Arbutus Shedding Bark
by W.P. Weston
Welcome to the John & Katharine Maltwood Collection Online Exhibit. This exhibit is dedicated to showcasing the John & Katharine Maltwood Bequest, the founding collection of the Maltwood Art Museum and Gallery at the University of Victoria. By using the orange tabs above, you can learn more about John & Katharine Maltwood, the Maltwood Bequest, and the Maltwood Art Museum and Gallery itself. The contents of each section are described below:

This section gives details on how to view and search the collection online. There are also instructions on how to print off your own customized catalogues of the collection.
In this section you can learn about the influence of Victorian England on the Collection, as well as many of the prominent B.C. artists that the Maltwoods supported. The history of the Maltwood Museum and Gallery itself can be found here as well.

This section contains details of the Maltwoods themselves with a special focus on Katharine Maltwood's artistic development and her research into the Glastonbury Zodiac (also known as the Somerset Zodiac).

All of the information resources used on this site are listed here including Rosemary Brown's Katharine Emma Maltwood, Artist, 1878-1961 with all references and the History of the Maltwood PowerPoint presentation.

There are links to good sites detailing many of the artists and aristic movements mentioned on this site. There are also additional links to relevant web sites and publications on the Glastonbury Zodiac.