Welcome to the Swans Art Tour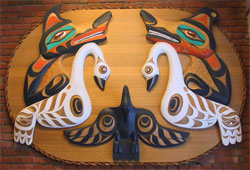 The Williams Legacy

These works are part of an extensive collection donated to the University by Michael Collard Williams. Williams was born in Shropshire, England, in 1930, and immigrated to Canada in 1958. While living in Victoria, he became a highly successful businessman, developer, and heritage conservationist, turning the old factories and warehouses of the downtown waterfront into popular spaces like the Paperbox Arcade on Johnson Street, Starfish Glassworks, and of course, Swans Hotel. For his unflagging commitment to the celebration and preservation of local arts and heritage, the University of Victoria presented him with an honourary Doctorate of Laws in 1990.

Williams had always been a great supporter of the University. In 1993 he commissioned and donated the Chancellorís Chair and Ceremonial Furnishings from twelve aboriginal artists of BC and the Yukon. The Ceremonial Furnishings are on permanent display on the second floor of University Centre.

Michael Williams died on November 9th 2000, and left the University his house on Ten Mile Point, a number of downtown properties, and an extensive art collection encompassing everything from antique carpets and furniture to contemporary art. With the exception of the antiques and maps, the collection is almost all of British Columbian origin, and ranges from 18th century Northwest Coast works to 20th Century works by the likes of Jack Shadbolt, Robert Davidson, and Toni Onley.

Highlights of the Williams collection continue to be on rotating display in Swans Hotel, not only in the individual rooms but also in the pub, bistro, and hotel lobby.