"Karl Spreitz,
The Master of Instant Retrospectives"

- Andy Warhol.
Upon failing the entrance exams to art school in the 1940s Karl Spreitz was told by the examining professor, "Fame is nothing but an empty ego and success will only come with talent." Known today as a painter, graphic artist, photographer, and documentary filmmaker - the many creative talents of this man are, ironically, undeniable and his success is equally evident.
Karl Spreitz was born in Graz an der Mur, Austria, in the late 1920s where he was raised by his mother and stepfather. His family, especially his stepfather, Ernst Spreitz, who was also an artist, highly encouraged him to study the arts. Ernst introduced multiple creative mediums to his young son including, mural and fresco painting, puppetry, and photography.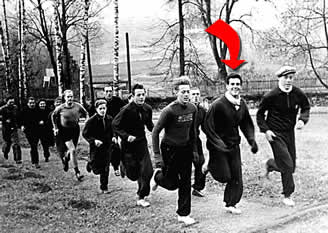 Spreitz running with his class, University of Graz
Popular cinema became another major source of Spreitz's early visual art education. Spreitz opted, on a regular basis, to spend his days in the movie houses of Graz rather than in the schoolhouse with the rest of his peers. Adventure and horror films like, Frankenstein, Cowboys & Indians, and Tarzan excited Spreitz and fuelled his story-telling imagination.
After the war, which had seriously disrupted the Spreitz family, it was decided that Spreitz should go to art school. Spreitz, however, failed the entrance exams and, distraught, decided that same day to write entrance exams for Physical Education at the University of Graz. He was accepted and very quickly progressed, finding ways to incorporate his artistic creativity into his physical education, especially through writing and pedagogy.